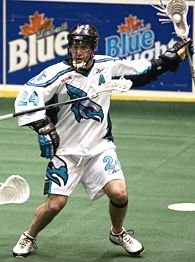 Grant Jr. from the Rochester Knighthawks had emergency surgery on his ACL last week due to an infection that spread from his elbow to his knee. From the press release, the surgery does not sound like a surgery that a player would come back from in full form and in as good shape as he was in before the surgery.
Grant underwent surgery Tuesday of last week on his elbow and knee to remove an infection that was beginning to migrate from his elbow to his knee. Grant went into surgery just two days later on his knee to remove more of the infection after an MRI discovered the first surgery failed to successfully remove it all.
After his second knee scope, Grant was forced into emergency surgery last Friday when doctors discovered the infection was getting worse as it started to attack his left ACL. As a result, the doctors in Peterborough had to remove his entire ACL and the screws, which attached the ligament to the bone.
Grant will be in a knee brace from four to 12 months, at which time he will enter another surgery to re-insert his ACL. The doctors will only operate on Grant once the infection is completely gone. In the meantime, Grant is being treated with various antibiotics to combat the infection.
Having your ACL taken out and then replaced again is definitely a extensive surgery that is going to sideline Grant for this season and possibly his career. All the best to Grant.
The story from NLL Insider.