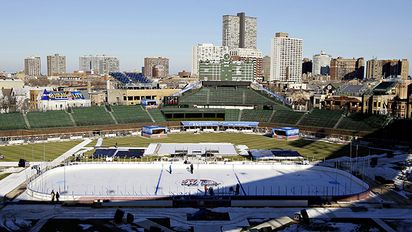 There have been two outdoor games in the history of the NHL.  The first was in 2003 featuring the Edmonton Oilers and the Montreal Canadiens.  The second, obviously, was last year's Winter Classic.  What happens to teams that lose the outdoor game. 
The Edmonton Oilers lost the Heritage Classic on home ice 4-3 to the Canadiens.  They then turned around and lost their next four games of the season and missed the playoffs that season.  They finished 9th in the conference with a total of 89 points.  The Montreal Canadiens on the other hand won three of their next four and made the playoffs in 7th place with 93 points.
The Buffalo Sabres lost the Winter Classic on home ice in a shootout.  They then lost their next six games on their way to a total of a 10 game losing streak.  As we all know, they missed the playoffs finishing 10th in the conference with 90 points.  The Pittsburgh Penguins won four straight and won the Atlantic Division on their way to the Stanley Cup Finals.
I think there are two major notes about the outdoor game.  The home team has a major weight on their shoulder that they have to win the game and then they ultimately succumb to the pressure and lose.  The second is that a team can gain a lot of confidence and momentum after winning the outdoor game.  Playing on the national stage and winning gives a team enough confidence and they then parlay that into a playoff experience. 
So what does this mean for this year's Winter Classic.  The Red Wings should beat the Blackhawks because they are a veteran team and they should be able to handle the exposure and pressure of playing on the big stage.  If history rings true as well, it would mean that the Red Wings should make the playoffs while the Blackhawks will miss it again.