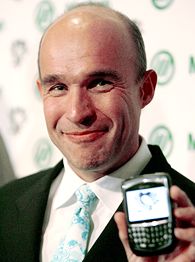 In my haste this morning, I posted a Balsille article rather crudely while I was running late for class. It looks ten times better now and you should read it only for the fact that it is the only Sabres news for a while.
The idea that Jim Balsillie would want to buy the Sabres makes more logical sense than trying to buy the Penguins or the Predators. If Balsillie was really wanting to make an effort to move a team to Hamilton, then taking a team that basically has a small fan base there would be easier on the attendence for the first few years. Also, because the team was so close, the backlash may not be as huge because if a person wanted to, they could make the trip to Hamilton to see them.
The Sabres and the Leafs are Balsillie's main competitors in the Hamilton markets. They are also the main sticking points because he would need explicit approval from the Leafs and the Sabres. Moving the Sabres would take away part of that issue and the MLSE would get part of the Hamilton action by most likely being one of the exclusive producer of the TV action. This move makes logical sense.
There is one final point that could be taken as good news here. The article mentioned that Golisano would be interested in selling the team only as long as the team was not being moved. This does bode well for the interest of the Sabres and its owner. Many people in the Sabres community have expressed reservations on where Golisano's interests lie and whether he ultimately cares about the team or the almighty dollar. This interest at least points in the direction that Golisano still has interest in the area and that he feels that it is in the best interest of the team to stay in Buffalo. At least I feel a little more confident in the direction of the Sabres' future.
The CBC article I posted is based off of the original Toronto Star article that is
here
.